1. What is hardfacing?
Metal parts often fail their intended use not because they fracture, but because they wear, which causes them to lose dimension and functionality. Hardfacing, also known as hardsurfacing, is the application of buildup or wear-resistant weld metals to a part's surface by means of welding or joining.
BENEFITS OF HARDFACING:
Reduces Cost: Restoring a worn part to "as new" condition generally costs between 20-70% of a brand new replacement part.
Prolongs Equipment Life: Service life increases of 3 to 10 times are common with properly overlaid parts.
Reduces Downtime: Parts last longer and fewer shutdowns are required.
Less Spare Parts Inventory: There is no need to keep numerous spare parts when worn parts can be rebuilt.
2. What base metals can be hardfaced?
Carbon and low-alloy steels with carbon contents of less than 1 percent can be hardfaced. High-carbon alloys may require a special buffer layer.
The following base metals can be hardfaced:
Stainless steels
Manganese steels
Cast irons and steels
Nickel-base alloys
Copper-base alloys
FCAW and GMAW may be interchangeable or the same in terms of popularity. However, the trend is toward use of semiautomatic and automatic welding procedures.
TYPES OF WEAR CONDITIONS HARDFACING CAN REDUCE OR ELIMINATE:
Abrasive wear is caused by foreign materials rubbing against a metal part.
Metal-to-metal wear results from non-lubricated friction of metal parts. As metal surfaces slide against each other, the high areas are broken and tiny fragments of metal are torn away.
A blow or a series of blows to a surface resulting in fracture or gradual deterioration. In general, impact resistance
decreases as carbide content is increased. Because abrasion resistance increases with carbide content, a compromise often must be made.
Heat influences wear resistance by:
softening the metallurgical structure.
causing a phase change that increases hardness and brittleness.
allowing chemical attack leading to galling and deterioration.
The deterioration of metal by chemical or electrochemical reaction with its environment.
Wear in which loss of material occurs due to the cutting action of moving particles carried in a fluid stream is termed impingement erosion. At low impingement angles (<15%), hardfacing with large amounts of carbides (hypereutectic alloys), are recommended. At high impingement angles (>80%), large amounts of text-small-link (hypoeuctectic alloys), are recommended.
Material loss due to very-small-amplitude vibrations at mechanical connections, such as riveted joints. This type of wear is a combination of oxidation and abrasive wear
3.What is the Deposition Rate of different welding processes?

| | |
| --- | --- |
| Procedure | Deposition Rate (lbs./hr.) |
| FCAW | 8 to 25 |
| PTA | 5 to 20 |
| GMAW | 5 to 12 |
| SMAW | 3 to 5 |
| SAW | 8 to 25 |
| GTAW | 3 to 5 |
| OFW | 5 to 10 |
Note: It can be seen that FCAW has highest deposition rate among all common processes.

| | |
| --- | --- |
| Hardfacing in Process | Hardfacing in Process |
Category

Process

Arc welding

Flux core arc welding (FCAW)

Gas metal arc welding (GMAW)

Gas tungsten arc welding (GTAW)

Plasma arc welding (PAW)

Shielded metal arc welding (SMAW)

Submerged arc welding (SAW)

Torch welding

Oxy/fuel gas welding (OFW)

Other welding

Electron beam welding (EBW)

Electroslag welding (ESW)

Furnace braze (FB)

Laser beam welding (LBW)
Common Materials Used in Hardfacings
Hardfacings are good for substrate materials that are suitable for welding, such as low-carbon steel. The most common hardfacing materials are nickel alloys and iron/chromium alloys used in wear resistance and high stress abrasion. Common materials for hardfacing are listed as follows:
| | |
| --- | --- |
| Metal Alloy | Purpose |
| Cobalt-base alloys | wear and corrosion resistance |
| Copper-base alloys | rebuilding worn machinery parts |
| Iron chromium alloys | high stress abrasion |
| Manganese steel | wear application |
| Nickel-base alloys | metal-to-metal wear resistance |
| Tool steel | tooling, wear application |
| Tungsten carbide | high stress abrasion |
APPLICATIONS
FCAW is used for all Overlaying, Hardfacing & Cladding applications.
Typical application areas of the FCAW technology are extruding machine screws, valves, valve seats of internal combustion engines (motorcar, marine, locomotive etc.), accessories for ships, petroleum chemistry and power generation, cutting tools (milling cutters, broaches, knifes) ,Equipment for mining, crushing, rolling, road building and tunneling, Process equipment in ceramics and cement production,Molds and forging dies, Pulp and paper industry equipment, Agricultural equipment, parts for nuclear plants, parts for chemical plant
Advantages of FCAW
It is a process which can be very easily automated to the highest degree, as compare to any other welding process.
Deposition efficiency & deposition speed is very high.
It has got very high electrical efficiency (low heat input)
FCAW uses spray transfer for deposition of metal to job
All the above results in a very low deformation in the job.
It is possible to add alloys through the core (flux) to give the final desire composition.
It is possible to work on site / out doors.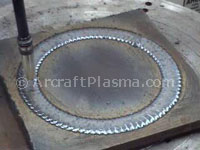 Finished Bead
Specifications of Power Source (CV)
Model ACW
250
300
400
500
600
Input Volts
380-440, 3Ø, 50Hz
380-440, 3Ø, 50Hz
380-440, 3Ø, 50Hz
380-440, 3Ø, 50Hz
380-440, 3Ø, 50Hz
Output Rating
250A
300A
400A
500A
600A
OCV
18-44V
18-44V
18-52V
18-56V
18-60V
Duty cycle
70%
70%
70%
70%
70%
KVA
10
14
18
24
34
Cooling
Forced Air
Forced Air
Forced Air
Forced Air
Forced Air
Insulation Class
H
H
H
H
H
Permissible Wire Ø in mm
0.8-1.2
0.8-1.2
0.8-1.6
0.8-1.6
0.8-2.4
Overall Dimensions (approx) in mm
Length mm
685
685
685
740
740
Width mm
590
590
590
640
640
Height mm
930
930
930
1030
1030
weight (Kg)
190
205
230
300
325
wire speed - 0 to14 meters per minute
Welding Gun
Suitable Welding Gun will be provided as per requirement of the customer. Standard Guns available are 250 A / 400 A / 600 A in Gas Cooled / Water Cooled models.
Oscillator
Oscillator with column & boom suitable for the above positioner
With variable speed potential control along with micro slide
With PMDC motors & Electronic Solid state Drives.
Wire Feeder
The feed mechanism is robust, light in weight for easy manoeuvrability maintenance free, and has drive system totally enclosed in alloy steel casing with hardened rollers, with interchangeability to choose different wire diameters, pre-flow and post-flow to eliminate contamination of weld. Electronic stepless control with feed back system for constant output speed and quality welding, push buttons for inching and gas checking. Quick release device for easy change over of insulated spool holder.
Controller
Programmable Logic Control (PLC) with 4 Input and 8 Output to control Power Source, Positioner, Oscillator & Wire feeder, Water Recirculator Cum Chiller
Housed in a seperate Control Panel
Welding Turntable
Welding Positioner
Tank Rotators
Column and Boom ( manupilators )
Welding Lathe
Water coolers for water cooled torches
Welding Automation