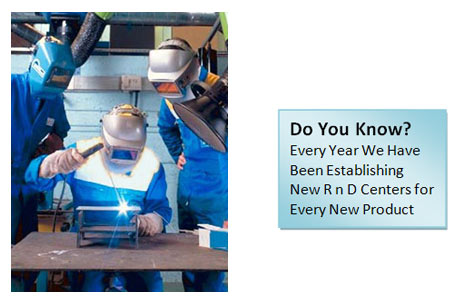 Welder training and certification for plate and pipe in all positions upto 6G in TIG, MIG, FCAW, SMAW (Stick) Processes.
All materials MS / SS, Special metals and Alloys
Certification is carried out as per ASME Section IX, AWS, API and other international codes and standards as required.
Welding consultancy, WPS, PQR for all metals, joints and positions
Welder certification for Hardfacing, Cladding and special welding procedures along with WPS and PQR as a package deal to our corporate customers.
Benefits of Welding Training and certification at Arcraft
Instructors qualified CWI (AWS), ASNT Level II.
Welding courses are designed to meet the needs of company's employees and job applications.
Class sizes are small for personalized instruction.
Training hours are flexible.
Third party testing of welders from Inspection agencies arranged on request.
WPS, PQR and Training Procedures Development to ASNT Section IX or as per request.
Certification of Welding Inspectors (ASWT – IWTT)
NDT Level – II qualification as per ASNT in VT (Visual Test), PT (Penetrant Test) & MT (Magnetic-particle Test)"
| | | | |
| --- | --- | --- | --- |
| S. No | Course Title | Duration Feb 2017 | Course Fees* |
| 1 | Certification of Welding Inspectors | 6 to 11 | 25,000/- |
| 2 | VT (Visual Test) | 10 to 11 | 7,500/- |
| 3 | PT (Penetrant Test) | 13 to 14 | 7,500/- |
| 4 | MT (Magnetic – Particle Test) | 15 to 16 | 7,500/- |
| 5 | UT(Ultrasonic-Testing) | 17 to 24 | 18,500/- |
Fully Equipped Workshop and Laboratory, AC Training hall can accommodate 25 people at a time.
Third party testing of welders from Inspection agencies arranged on request.
Breakfast, Lunch and Snacks will be provided for CWI and ASNT LeveI l and II candidates.
Single and Shared accommodation available at walking distance.
Training and certification by
Mr. Satish Sawant
ASNT Level III, AWS - CWI Certified Welding Inspector, CSWIP - TWI (Cambridge - UK) Certified Welding Inspector, International Welding Technologiest (IWT), NACE International Paint and Coating Certified inspector, Lead Auditor ISO 9001, Lead Auditor TS 16949, AIAG Supplier Auditor.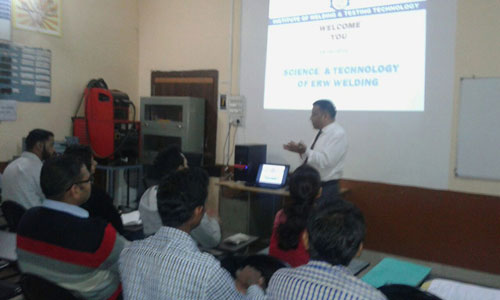 Online Training Programs
Preparatory Programs for ASNT Level III in Basic, RT, UT, MT, PT, VT and ET.
Preparatory Program for API 510, 570 and 653 examinations.
API Q1 Internal Auditor Training program.
QMS
Drill String Inspector Program: Covering API Spec 7-1 &2, DS1 Vol 3/4, NS2, API RP 7G-2.
Risk Analysis Program
ASME Section IX
Offshore Container Inspector: EN 12079 and DNV 2.7-1.
Conducted by
Dr. Santosh Gupte
(PhD, IWE, BE, ASNT Level III)